Knowledge Pack
What you should know about cyber insurance
As more companies step in to offer insurance coverage against a broad range of cyber losses, we break down five points that organizations should keep in mind as they consider their options.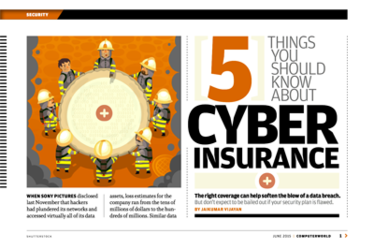 With recent breaches at Sony, Target, Home Depot, JPMorgan Chase and elsewhere, interest in policies for protecting companies against cyber losses has begun to pick up. And plenty of insurers are stepping in to meet the demand as the staggering costs associated with data compromises are driving more companies to seriously consider cyber insurance.
The IT department has a clear role to play in assessing a company's cyber insurance needs -- by identifying systems that are critical to business operations and helping business people understand threats to critical assets and the potential consequences of a major data compromise.
Read about the five key points to keep in mind as you consider your organization's cyber insurance options.