Sponsor: Hitachi ID Systems, Inc.
Best Practices for Securing Privileged Access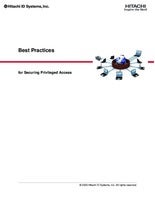 High risk accounts are a prime target for attackers and may be abused or misused by authorized users. Static, shared and plaintext passwords can be compromised by departed employees or malicious software. This document reviews best practices for securing privileged access, including processes, policies and technology used to secure access to privileged accounts.