Sponsor: Hitachi ID Systems, Inc.
Complex IAM requirements in a University/Medical Center Environment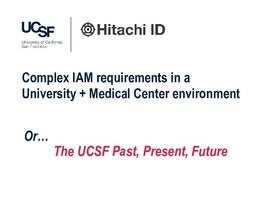 The University of California - San Francisco (UCSF) had to replace a 20+ year old, mainframe-based identity system. The platform is being phased out and software authors and maintainers are gone. The presentation will describe how UCSF characterized and addressed challenges in replacing a system deeply entangled with core business processes, and expanding process automation to prepare UCSF for the future. Presented at the 2019 Gartner IAM Summit in Las Vegas.