Sponsor: Carbon Black
A Buyer's Guide to SecOps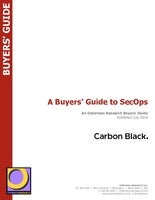 The recent emergence of real-time solutions are enabling Security and IT Operations teams to work together to speed up analysis and response times to reduce risk in their organizations. While these SecOps products deliver a wide range of benefits, it can be difficult for teams to prioritize one set of functionality over another in this fast-evolving movement.
Carbon Black's solution, Carbon Black LiveOps, closes the gap between security analysis and IT operations by giving administrators visibility into precise details about the current state of all endpoints, enabling them to make quick, confident decisions to reduce risk.
To help you in your evaluation process, Osterman Research created "A Buyer's Guide to SecOps" to help you evaluate the next gen endpoint security solutions so that you can find the tools that are right for your organization.
 Download the guide to get evaluation criteria for:
Product capabilities
Product fit and alignment
Vendor and product analysis
And advice for how to decide between two or three products
 This easy-to-use, tabular guide will help you navigate through the endless features and get to the heart of what matters for the security of your business. Download your copy today to ensure you're making the right investment to upgrade your endpoint security stack.