Knowledge Pack
Download the 2018 Best Places to Work in IT special report
Our 25th annual report highlights 100 top organizations across the country that attract skilled tech professionals by offering robust salaries, stellar benefits, and flexible, fast-paced work environments.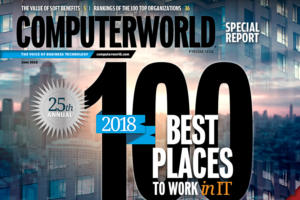 What makes an organization a good place for technology professionals to work?
For the 25th year in a row, Computerworld has surveyed large, midsize and small organizations across the U.S. to find out which ones are the Best Places to Work in IT. Along the way, we've learned a lot about what the companies and other organizations that have made our 25 lists have in common. We've seen what goes into becoming a Best Place to Work.
Salaries, paid time off, health insurance and retirement plans all contribute. But the things that seem to really set organizations apart are benefits that reflect an attitude: We value our employees, we listen to our employees, we empower our employees, we want our employees to be challenged and grow professionally, and we want them to enjoy both their work and their personal lives.
Those are the things that the IT employees who responded to our survey have been most enthusiastic about, and it's what all our list-toppers do most effectively.
Read this special report to see which companies are the Best Places to Work in IT and what it is that makes them such desirable places to work.