Chuck LoCurto, 2015 Honoree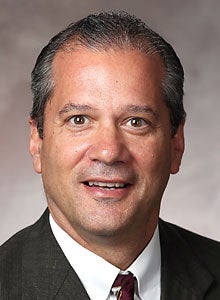 Title

Vice president and CIO

Employer

Bryant University

Location

Smithfield, R.I.

How have you incorporated social media into your work?

I have a blog/discussion board on our internal portal. My posts include a monthly article called "IT's ALIVE" (an acronym for our operating principles), the minutes of our biweekly technology meetings, change review board items and a thread called "Trips, Training, Travel, Articles." Members of the IT division subscribe to these blogs to get my posts.

The most important task you've delegated this year:

Consolidating our two help desks into one. We had a student help desk called Laptop Central and a faculty/staff help desk. They have been combined under one leader, and he will combine the teams, leverage resources and deliver a full service desk that will also be positioned to handle our e-learning efforts. E-learning is tied for first with the consolidation project among the tasks I've delegated. These two had to be done together to make it work.

Career highlight:

Serving as the chairman of the board for Blue Cross and Blue Shield of Rhode Island.

Most innovative idea from your staff:

A student idea for a mobile app that my team implemented called RoomFinder, which helps students locate vacant rooms for quiet study. Beyond the technology, it required innovative teamwork on the part of various groups, including students, the teams from AV and media, infrastructure, applications and library resources, as well as external consultants and participants in a crowdsourcing effort.
View All 2015 »