Anil Cheriyan, 2015 Honoree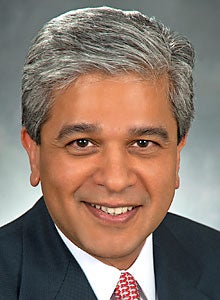 Title

CIO

Employer

SunTrust Banks

Location

Atlanta

New IT titles:

We added a chief data officer to support our new enterprise data organization.

What's your boldest prediction for IT in the next five years?

Providing users with business applications will involve an "app store" approach (similar to iTunes or Google Play) where employees can download the tools they need when they join a new company.

How are you building an IT department that's ready for new challenges?

We broke down the traditional IT structure and adopted a culture that inspires collaboration and innovation across the bank. We also focus on connecting teammates across old silos to solve problems and put an emphasis on finding -- and keeping -- the right talent for our organization.

How does your IT group embed workers in the business?

Our role in IT is to be joined at the hip with our segment leaders (as well as with marketing, risk and finance) to help make business strategies and technology innovations a reality in the marketplace.
View All 2015 »