Mark D. Barner, 2015 Honoree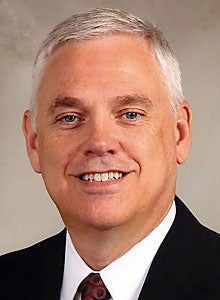 Title

Senior vice president, CIO

Employer

Ascension Health

Location

St. Louis

How have you incorporated social media into your work?

I am an active internal blogger across our broad IT organization. I have driven innovation leading to the development of mobile apps for our health ministries (hospitals). I use -- and encourage the use of -- our social learning platform, and I participated in our interactive wellness program. I also am active with Twitter and LinkedIn.

The most important tasks you've delegated this year:

First, identifying suppliers that Ascension would work with to expand our focus on wearables in healthcare. Second is work on data-use cases for analytics and real-world problem-solving. These were sizable tasks requiring a great deal of attention and detail work. I assigned this important task to our vice president of IT strategy and business development.

A recent great deal from a vendor:

Vendor renegotiations is an initiative in which we ask vendors to renegotiate existing IT contracts. We're two years in, and 88% of our top 100 vendors (in terms of annual spending) have completed this process and we have identified $50 million in total annual cost reductions.
View All 2015 »