Tony Saldanha, 2014 Honoree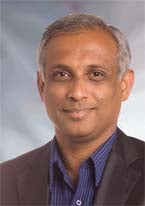 Title

General manager, global business services

Employer

Procter & Gamble

Location

Cincinnati

A key relationship:

My line manager is P&G Global Operations leader Werner Geissler. We agreed on the top two business opportunities, and I drove the breakthrough IT transformation there. Werner is incredibly strategic as well as brilliant in systemic execution. I focused on exceeding business outcomes while tapping into these skills often.

How do you evaluate emerging technologies?

It's very simple: Prove the ability to deliver business outcomes in a small way first. The challenge isn't to pick the most powerful, the shiniest or the best, but the one that works for your business in real life.

To what extent do you embed IT workers in business units?

This is a core strength of our business model: highly professional client leaders embedded in each business unit. They have one success measure: relevance of IT/shared services to their business units.
View All 2014 »