Elvis D. Moreland, 2008 Honoree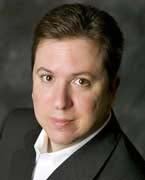 Title

Senior information assurance manager

Employer

U.S. Air Force Reserve

Location

Fairfax, Va.

Most valuable career advice received:

"Think twice before acting or speaking once."

The person in whom you confide when weighing professional decisions:

"My father."

Favorite TV show:

Lost, JAG, Boston Legal

What would surprise the people with whom you work?

"The medals I have received from the Air Force Reserve."
View All 2008 »