Pablo Ciano, 2014 Honoree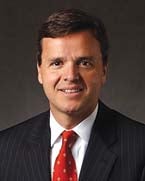 Title

CIO

Employer

DHL Express

Location

Plantation, Fla.

A recent example of your leadership style:

I recently provided developmental feedback to my boss on something he needs to improve.

Coolest current project:

Predictive analytics to reduce customer churn.

Quick ROI project:

Virtualizing customer-service desktops.

Boldest IT prediction:

More CIOs will become CEOs.

How are you building an IT department for the future?

By hiring people who are smarter than me, and bringing in people with the ability to build and manage digital platforms (process, people and software).

To what extent do you embed IT workers in business units?

I have a program called Face to Face where each IT employee chooses to spend 10 full days shadowing employees in other departments.
View All 2014 »