Monique S. Shivanandan, 2013 Honoree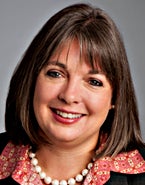 Title

Senior vice president, chief technology officer

Employer

Capital One Financial Corp

Location

McLean, Va.

A recent example of your leadership style:

We recently centralized a key IT function into my team. I spent considerable time meeting with IT colleagues and business partners one on one to address individual concerns, and to build trust and advocacy, before taking my idea to a decision-making group where they universally supported that recommendation in a very public way.

A career highlight:

While CIO of the retail division of British Telecommunications, one of my last projects was collaborating on the design of the communications services network for the London 2012 Olympic and Paralympic Games. I attended the opening event of the Summer Games and was thrilled to see how it all came to life.

How are you building an IT department for the future?
View All 2013 »