Warren Kudman, 2013 Honoree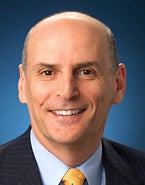 Title

Vice president and CIO

Employer

Sealed Air Corp.

Location

Elmwood Park, N.J.

A task you've delegated this year:

I've given one of my direct reports responsibility to lead the team that is partnering with the business to develop IT-enabled solutions for direct use by customers.

Your relationship with a key business leader:

I have a very strong relationship with our CEO, based on trust, where I am able to approach him with opportunities or issues, and he is able to more comfortably support investments in IT.

A career highlight:

I was asked to be the overall integration program leader for Sealed Air's acquisition of Diversey, a $3.2 billion company.

Boldest IT prediction:

Siri-type technology will begin to be applied to the big data/analytics arena so we can start asking our systems to give us answers to management inquiries (think Star Trek computers).
View All 2013 »