Richard L. Gilbert, 2013 Honoree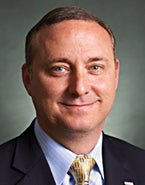 Title

Senior vice president, Technology Services

Employer

SunTrust Banks Inc.

Location

Atlanta,

Characteristic most important in an IT hire:

A critical trait is the ability to lead as well as play a part on the team. The key is to be flexible and adjust according to the situation.

Quick ROI project:

A significant achievement was made in leveraging new quality techniques to optimize the IT testing process through an industry-leading initiative called Progressive Automation. By centralizing and progressively automating the testing function under a single organization, we were able to increase the quality of IT application delivery, save over 20,000 hours of testing effort and deliver projects to the business as early as two weeks ahead of schedule.
View All 2013 »