Joseph Eckroth, 2013 Honoree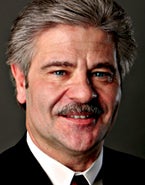 Title

Senior vice president and CIO

Employer

The Hertz Corp.

Location

Park Ridge, N.J.

A job responsibility you'd like to eliminate:

Maintenance. Not because it isn't important, but because I love to build and transform things, and maintenance can take a disproportionate amount of time away from more strategic areas.

Boldest IT prediction:

The lines between business operations and IT will blur to become almost nonexistent. As technology continues to accelerate and becomes more embedded in the business model and product lines, IT will run more of the business because a deep understanding of technology and how to apply and manage it to the business strategy will be mandatory to run a business.

What's your involvement in developing new products or services for your organization?
View All 2013 »