Oliver Bussmann, 2013 Honoree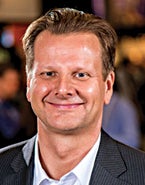 Title

Executive vice president and global CIO

Employer

SAP AG

Location

Walldorf, Germany

How have you incorporated social media into your own work?

As a role model, I am very active on Twitter (@sapcio) and have over 6,000 followers. I reserve time in my daily calendar to comment on an internal blog or on my external blog (www.sap.com/cio) or to engage with followers over Twitter.

How are you turning your IT department into a services organization?

We are focusing on end-to-end service and portfolio management, which includes four measures -- an improved engagement model that creates full transparency between IT and lines of business; a cultural change that encourages a more client-oriented mindset; process harmonization to streamline processes for service requests; and coordinated communications.

A career highlight:

Stepping out of the normal role of a CIO and acting as a thought leader and SAP corporate officer representing SAP at analyst conferences and customer meetings.
View All 2013 »