Christopher L. Smith, 2012 Honoree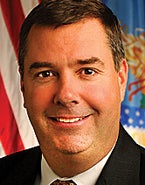 Title

CIO

Employer

U.S. Department of Agriculture

Location

Washington,

New titles added to your IT organization?

Geospatial information officer. The USDA has been, and continues to be, a center of excellence for geographic and geospatial products utilizing geographic information systems, imagery and remote sensing capabilities to improve farming methods and fighting forest fires as well as producing map products for recreation.

How have you incorporated social media into your own work?

I launched an enterprise-class set of social networking tools for the USDA's 120,000 staffers. Within the Office of the CIO, we use these tools extensively for collaboration around the globe on work products, improving our productivity and communications and resulting in quicker time to market for our products.
View All 2012 »