Steve Rubinow, 2012 Honoree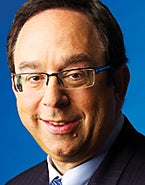 Title

Executive vice president and CIO

Employer

NYSE Euronext

Location

New York,

New titles added to your IT organization?

Chief data officer. This position incorporates most aspects of data, from the databases and related processes that generate and store transaction data, to the use of data warehousing and business intelligence, as well as the management of the physical storage for all the data.

Your relationship with a key business leader:

I have regular, vibrant discussions with the chief operating officer on ideas, people, technology and more, which results in a healthy vetting process going forward.

What's your boldest IT prediction?

We'll start filling some open positions with robots. Operating costs for robots are low, and they can be configured with the skills that meet our needs. There is a reason the ringtone on my phone is the theme from The Jetsons.
View All 2012 »