Michael I. Rodger, 2012 Honoree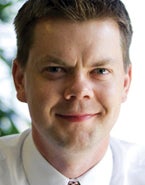 Title

Director, digital innovation

Employer

Delta Hotels and Resorts

Location

Toronto,

How do you make sure your most talented workers stay put?

It's my belief that by creating products and services that stand out, we ensure that our best performers will stay. I subscribe to the theory that people will remain with an organization if they're proud of their work.

An innovative staff idea:

Delta is invested heavily in bandwidth to ensure our hotels offer the best hotel Internet experience in Canada. A team member recently suggested that we leverage the bandwidth to deliver IP content to the TV. We're now experimenting with 'cable-cutting' on a larger basis.

What's your boldest IT prediction?

In the consumer space, my prediction would be an accelerated integration of content companies, hardware companies and bandwidth providers. Organizations will strive to own content and generate recurring revenue via the access to that content.
View All 2012 »