Ralph E. Loura, 2012 Honoree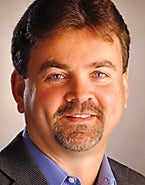 Title

Vice president and CIO

Employer

The Clorox Co.

Location

Oakland, Calif.

New titles added to your IT organization?

Solution designer, domain architect and client manager.

How have you incorporated social media into your own work?

I use Twitter to scan for ideas and information in and outside of the IT space.

What characteristic is most important to you in an IT hire?

Cultural fit.

Coolest current project:

Establishing a corporate data model that unlocks integrated data in ways we have never done before.

What's your boldest IT prediction?

In the next few years, most companies will be offering alternative platforms, such as tablets, either in addition to or as an alternative to the standard PC and cellphone that are customary today.
View All 2012 »