Joshua R. Jewett, 2012 Honoree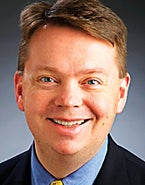 Title

Senior vice president of IT and CIO

Employer

Family Dollar Inc.

Location

Matthews, N.C.

What characteristic is most important to you in an IT hire?

Creativity. IT leaders are asked to accomplish a bold agenda with limited resources. Technical, organizational and cultural obstacles can thwart good intentions and hard work. A creative leader finds a path around obstacles and accomplishes much with limited resources.

Your relationship with a key business leader:

One of my most effective relationships is with the head of our human resources department. We've developed a good personal relationship, understand each other's business, and aid each other in achieving our objectives.

Quick ROI project:

We deployed what is known as 'bounce back' coupons this spring. These coupons print automatically on the bottom of the cash register receipt and offer the customer a discount on a future purchase. Redemptions of these coupons have been very high, driving repeat visits and producing larger baskets from our customers.
View All 2012 »