Puneet Bhasin, 2012 Honoree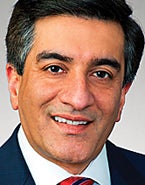 Title

Senior vice president and CIO

Employer

Waste Management

Location

Houston,

What characteristic is most important to you in an IT hire?

The ability to deliver results regardless of constraints, apply all reasonable methods to 'make it happen' while partnering with the business and understand the importance of commitments and deadlines.

Coolest current project:

Deploying onboard computers, loaded with route optimization software, to our fleet of 20,000 waste collection and recycling trucks. We're using them to link drivers and dispatchers with one-click access to the most efficient route, safety-related information and timely resolution of operational issues. We've created a paperless cab, automated many processes and are providing real-time information to our customers and to our customer service and dispatch operations.

What's your involvement in developing new products or services for your organization?

I stay very involved in providing the vision, conceiving innovative ideas and ultimately seeing them come to fruition through interaction with field operations, sales and our customers.
View All 2012 »