Zahid Afzal, 2012 Honoree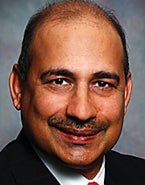 Title

CIO and executive vice president

Employer

Huntington National Bank

Location

Columbus, Ohio

How do you make sure your most talented workers stay put?

We have a formalized talent management process by which we assess and define our top talent every six months. All of our promotional, organizational, rewards, training and any other employee decisions are made using this evaluation process. Each employee is given stretch assignments, coaching, training or new tasks as a result of this assessment. Additionally, I like to stay personally connected with all the key talent via brown-bag lunches, one-on-one meetings and otherwise making myself accessible. These programs have resulted in less than 0.1% attrition rate of key talent.

A recent great deal from a vendor:

Consolidating several agreements and technology solutions into one, resulting in significant annual cost savings and leveraging a next-generation technology platform.
View All 2012 »