Paul J. Major, 2011 Honoree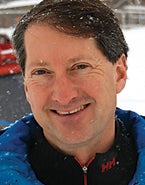 Title

Managing director, IT

Employer

Aspen Skiing Co.

Location

Aspen, Colo.

Quick-ROI project:

"Customization in our ski rental system created immediate guest service advantage. Guests scan their RFID pass or ticket, and their guest profile is immediately uploaded into the rental contract. The ability to add and cross-sell retail products throughout the rental process increased revenue. The enhancements reduced wait time and retained customers, resulting in a 20-week ROI."

An innovative staff idea:

"A mobile Web app to allow any manager to conduct ad-hoc guest satisfaction surveys in the resort using a smartphone. The survey data is uploaded in real time to a Web dashboard. Line-of-business managers can quickly review the data and respond to trends accordingly."

Boldest IT prediction for the next 5 years:

"No more desktop PCs, just docks for mobile devices."
View All 2011 »