Jim Lammers, 2011 Honoree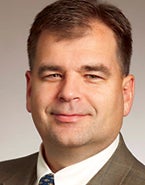 Title

Vice president IT, Client and Patient Systems

Employer

Express Scripts Inc.

Location

St. Louis

Coolest current project:

"We are developing an advanced operations workflow that makes use of previous transaction history to automatically complete steps and automatically route work. We apply iterative design practices to optimize the user interface, and we leverage best-in-class analytics and a rules engine for business processes."

Boldest IT prediction for the next 5 years:

"The use of biometrics will replace credit cards and debit cards. As biometric systems that use fingerprints or voice recognition become more affordable, the consumer will get a fingerprint scan and enter a PIN to complete electronic payments rather than swiping a credit card at the store."
View All 2011 »