David C. Harkness, 2008 Honoree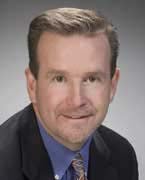 Title

Vice president, CIO

Employer

PNM Resources Inc.

Location

Albuquerque

Most valuable career advice received:

"Treat every year of your life like a gallon of gas on a journey. Make sure you are getting good mileage."

Passion outside work:

Iowa Hawkeye football

Current car/first car:

BMW 335i/yellow Ford Pinto

What would surprise the people with whom you work?

"I once applied to be a contestant on Survivor."
View All 2008 »