Mark A. Schwartz, 2010 Honoree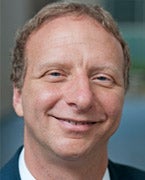 Title

CIO

Employer

Intrax Cultural Exchange

Location

San Francisco

If I were not in this business, I would probably be...

"a philosophy professor. I have a master's degree in philosophy from Yale that was originally intended to be a Ph.D. and lead to an academic career."

Leadership philosophy in a nutshell:

"Leading IT is much like directing actors -- giving orders is not effective. Instead, infuse staff with a vision, let them be creative within that vision, then mold their creations to ensure they align with your intention. Then add humor, and success follows."

Passion outside of work:

"Music. I perform weekly on guitar, playing in various styles -- ragtime, classic blues, Brazilian, folk-rock. And I just recorded a CD."

What's the most interesting thing people don't know about you?

"I have adventured in about 70 countries with a backpack and guitar, searching for an invisible village in Madagascar, hitchhiking across The Kalahari Desert, being tear-gassed at riots..."
View All 2010 »