Avid Modjtabai, 2010 Honoree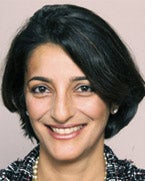 Title

CIO, executive vice president, technology and operations

Employer

Wells Fargo & Co.

Location

San Francisco

First job:

Summer associate position at First Boston Corp.

Leadership philosophy in a nutshell:

"I believe the strength of the leader comes from the team. To build a great team, you have to create a culture of openness and trust."

Passion outside of work:

"Spending time with my family, especially on vacations when we can have quality time together."

In high school, I was...

"still living in Tehran, studying at Tehran International School."

Technology pet peeve:

"Technology for technology's sake, with no identifiable or measurable business purpose."
View All 2010 »