James A. Dobson, 2010 Honoree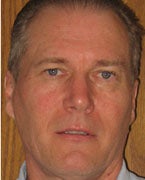 Title

Former Director of IT

Employer

A. Duie Pyle Inc.

Location

West Chester,, Pa.

First job:

Bagboy at the local grocery store.

Most valuable career advice:

"My dad told me to always do your best, no matter what the task is."

Favorite vice:

Chocolate

Would you advise young people to pursue an IT career?

"Absolutely! There is never a dull moment, and you spend your entire life learning new things."

Passion outside of work:

"Auctions. I love a good deal."

What's in your MP3 or CD player right now?

John Denver

Technology pet peeve:

"Giving into hype instead of what's needed."

A recent great read:

Lone Survivor, by Marcus Luttrell and Patrick Robinson

What's the most interesting thing people don't know about you?

"That I collect World War II guns."
View All 2010 »