Edward C. DeMartino, 2010 Honoree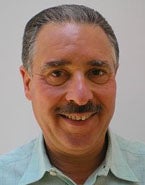 Title

Vice president, CIO

Employer

The Children's Place Inc.

Location

Secaucus,, N.J.

First job:

IT computer operator (unit record equipment)

Most valuable career advice:

"Don't ever give up, and always be a team player."

Favorite vice:

Running and weekend cooking

Life's ambition:

"To help others succeed in IT."

Would you advise young people to pursue an IT career?

"Absolutely. I believe that technology will always be a driving force and a challenging career."

Leadership philosophy in a nutshell:

"You have to have the ability to identify and bring out the best from individuals and access those qualities for success."

Favorite sports:

Baseball and football

In high school, I was...

"quiet and not too popular."

Favorite movie:

What's the most interesting thing people don't know about you?

"I like to sing and play the accordion."
View All 2010 »