John P. Burke, 2010 Honoree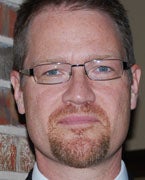 Title

CIO

Employer

Ambit Energy LP

Location

Dallas

First job:

Paperboy

Favorite vice:

Red wine

If I were not in this business, I would probably be...

"a musician."

Best mentoring relationship:

"My uncle Tom (a GE man). He raised my standards."

Favorite gadget:

Amazon Kindle

Leadership philosophy in a nutshell:

"Set the pace, provide a consistent vision, show great appreciation, share excitement, win their hearts, and you'll get their minds."

Passion outside of work:

Family

Favorite sport:

Hockey

What's in your MP3 or CD player right now?

AC/DC

A recent great read:

His Excellency George Washington, by Joseph J. Ellis

What's the most interesting thing people don't know about you?

"I played in a rock band until I was 25, complete with long hair."
View All 2010 »