Amy Berkowitz, 2010 Honoree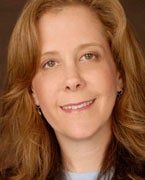 Title

Senior vice president, CIO

Employer

CBS Corp.

Location

New York

Most valuable career advice:

"It's important to build a strong collaborative team with the focus on encouraging people, not diminishing them."

Best mentoring relationship:

"With David Pottruck, former president and co-CEO of Charles Schwab. He helped me a great deal early in my career."

Ask me to do anything but...

"go to an animal shelter and leave empty-handed."

Favorite sport:

"As a spectator, I'm a baseball (die-hard Yankees) fan. I'm also an exercise enthusiast; it's important for the body and mind."

What's the most interesting thing people don't know about you?

"I studied biomedical engineering at Vanderbilt University and created some new inventions."
View All 2010 »