Sheldon X. Wang, 2009 Honoree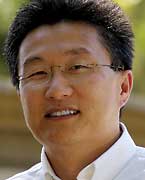 Title

Executive vice president of technology, chief technology officer

Employer

eHealth Inc.

Location

Mountain View, , Calif.

First job:

"Software engineer at Motorola."

What do you love about IT?

"You can see and feel what you have done every day."

Write your own epitaph:

"Somehow or some way he always found a way to win, while enjoying the process."

People you'd invite to your dream dinner party:

Henry Ford, Steve Jobs and John F. Kennedy

In whom do you confide when weighing professional decisions?

"My wife."

Passion outside of work:

Sports and travel

Favorite sport:

Basketball

Twenty years ago, I was...

"A Ph.d. student at the University of Utah."

Favorite book:

Geoffrey A. Moore's The Gorilla Game

What about you would surprise the people you work with?

"I am a high school dropout."

Leadership philosophy in a nutshell:

"Lead by example, and never assume anything."
View All 2009 »