Brian J. Walsh, 2009 Honoree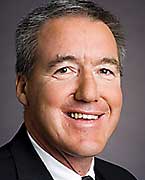 Title

Executive vice president

Employer

State Street Corp.

Location

Quincy, , Mass.

First job:

"Stocking shelves at a grocery store."

Passion outside of work:

"My family."

Favorite sport:

Baseball

Favorite ice cream flavor:

Chocolate

Favorite movie or TV show:

Seinfeld

Leadership philosophy in a nutshell:

"I lead by example. I make every effort to work harder than anyone else. I expect much from my team, but I show them I don't expect more than I am willing to do myself. I believe in the basics, treat people as you would like to be treated."
View All 2009 »