Steve R. Romeo, 2009 Honoree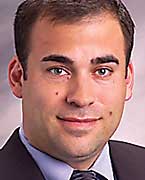 Title

Vice president of IT

Employer

Breg Inc.

Location

Vista, , Calif.

First job:

"Mowing lawns."

Most valuable career advice:

"Don't run out and buy a fancy car when you become an executive."

Favorite vice:

"Sushi. I can't get enough."

What do you love about IT?

"Helping people with technology. It's all about making someone smile, getting something to work for them."

Favorite gadget:

"My Garmin XM handheld GPS for hiking."

In whom do you confide when weighing professional decisions?

"My wife. She keeps me grounded."

Passion outside of work:

"Teaching others about living green, either through nature classes that I teach or backpacking trips."

Favorite sport:

"Surfing. I ride a 9' 2" longboard in San Diego."

Favorite ice cream flavor:

Mint chocolate chip

What about you would surprise the people you work with?

"I contribute to a wildlife conservation team as an animal tracker. I've been teaching wilderness survival and animal tracking for over 20 years."

Leadership philosophy in a nutshell:

"A successful leader must be willing to let go of the tactical, rely on instinct, lead with passion and not be afraid of risk."
View All 2009 »