Ronald W. Huston, 2009 Honoree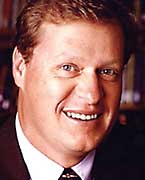 Title

Agency services director and state enterprise architect, Governor's Office of Information Technology

Employer

State of Colorado

Location

Denver

First job:

"Delivering the newspaper."

Most valuable career advice:

"Learn both sides of the issue before making a decision."

Favorite vice:

"Cookies -- any kind."

What do you love about IT?

"Seeing the user of new technology have an ?aha' moment when the light bulb clicks and they realize the value for them."

People you'd invite to your dream dinner party:

Abraham Lincoln, Theodore Roosevelt and George Washington

Passion outside of work:

"Family. In particular, spending time with my two grandchildren."

Favorite ice cream flavor:

Rocky road

Favorite book:

"Anything written by Clive Cussler."

Favorite TV show:

Hogan's Heroes

Leadership philosophy in a nutshell:

"I am a strong believer in collaboration. I firmly believe that individuals have good ideas, but by bringing a group together, great ideas are born. My No. 1 goal is to remove the roadblocks that prevent people from achieving their mission."
View All 2009 »