Rebecca S. Harris, 2009 Honoree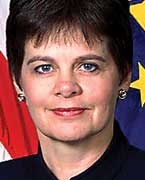 Title

Program executive officer, Global Information Grid Enterprise Services

Employer

Defense Information Systems Agency

Location

Arlington, , Va.

Favorite ice cream flavor:

Chocolate

What's in your MP3 player?

Brooks & Dunn

Most valuable career advice:

"Don't sweat the small stuff."

What do you love about IT?

"The fact that it is constantly changing; there is always something new to learn."

Favorite sport:

Horseback riding

Leadership philosophy in a nutshell:

"Leadership is founded on strong values such as honesty, integrity and care for people. It's about showing people their leadership potential and enabling them to do their best. I believe that a quality of leadership is realizing that everyone is a leader

"Aha" leadership moment:

"Realizing that the speed of deployment is often more important than a perfect solution. Quickly getting the 80% solution in the hands of the warfighter is a win-win situation. Waiting for the perfect solution makes one irrelevant or overcome by events.
View All 2009 »