Nick J. Goss, 2009 Honoree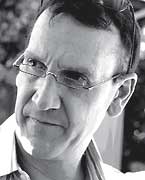 Title

CIO

Employer

Destiny USA

Location

Syracuse, , N.Y.

First job:

"?Alley lad' in a warehouse when I was 15."

Most valuable career advice:

"Don't work in a corporation if you want to get on quickly."

What do you love about IT?

"The pace. It's annoying as hell having to relearn every two years, but I guess I'm hooked!"

Best mentoring relationship:

"The advice of my wife."

Passion outside of work:

Playing acoustic guitar

Favorite sport:

Cycling

What's in your MP3 player?

Catatonia, My Chemical Romance and Jeff Beck

Favorite ice cream flavor:

Vanilla

Leadership philosophy in a nutshell:

"IT is not a monolith. It has to be dissected to support specific discrete business objectives. It has to work when required and never make people feel stupid."
View All 2009 »