2012

Employer Profile

No. 82
Baker Hughes Inc.
http://www.bakerhughes.com/careers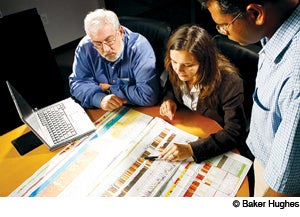 Why you want to work there
IT employees at this oil field services company in Houston are offered several ways to develop their careers. Choices include a competitive, projects-based talent program; a skills-building program that measures and recognizes progress and growth; and a planning program to help employees assess their skills and plot their career aspirations. The company earmarks 15% of its budget to put toward strategy and training programs.
Rank by company size:

Large, No. 45
Employee Statistics
Total U.S.-based employees: 25,718
Total U.S.-based IT employees: 485
IT employee turnover in 2011: 12%
IT promotions in 2011: 5%
Training
Training days offered per IT employee in 2011: 10
Training budget per IT employee in 2011: $1,546
Women in IT
Total percentage of women within IT: 34%
Percentage of IT managers who are women: 25%
Percentage of IT staffers (non-managers) who are women: 37%
Minorities in IT
Total percentage of minorities within IT: 31%
Percentage of IT managers who are minorities: 27%
Percentage of IT staffers (non-managers) who are minorities: 32%