2012

Employer Profile

No. 77
Eastman Chemical Co.
http://www.eastman.com/Company/Careers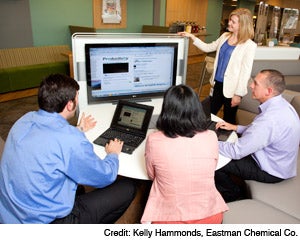 Why you want to work there
The women of Eastman IT teamed up with Microsoft recently to host "DigiGirlz Day" in this chemical firm's home base in Kingsport, Tenn. Several employees met with female high-school students to stress the importance of education and demonstrate how skills in math and science can help advance technology skills. This event also raised awareness about career opportunities in IT.
Rank by company size:

Medium, No. 26
Employee Statistics
Total U.S.-based employees: 8,515
Total U.S.-based IT employees: 334
IT employee turnover in 2011: 5%
IT promotions in 2011: 12%
Training
Training days offered per IT employee in 2011: 5
Training budget per IT employee in 2011: $2,204
Women in IT
Total percentage of women within IT: 34%
Percentage of IT managers who are women: 29%
Percentage of IT staffers (non-managers) who are women: 36%
Minorities in IT
Total percentage of minorities within IT: 7%
Percentage of IT managers who are minorities: 3%
Percentage of IT staffers (non-managers) who are minorities: 8%