2012

Employer Profile

No. 66
Reed Technology & Information Services Inc.
http://www.reedtech.com/about/careers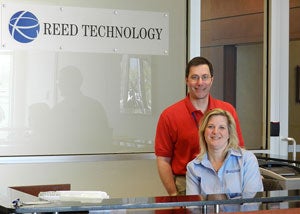 Why you want to work there
This content management provider in Horsham, Pa., puts its money where its mouth is. IT leaders are given the resources they need to accomplish their technology goals. Their budgets also include funding for employee recognition events, such as an "employee spirit week." IT workers can take advantage of a large repository of online training courses and participate in off-site seminars and conferences.
Read more about this Best Place to Work.
Rank by company size:

Small, No. 8
Employee Statistics
Total U.S.-based employees: 855
Total U.S.-based IT employees: 76
IT employee turnover in 2011: 0%
IT promotions in 2011: 9%
Training
Training days offered per IT employee in 2011: 12
Training budget per IT employee in 2011: $1,447
Women in IT
Total percentage of women within IT: 32%
Percentage of IT managers who are women: 25%
Percentage of IT staffers (non-managers) who are women: 32%
Minorities in IT
Total percentage of minorities within IT: 42%
Percentage of IT managers who are minorities: 25%
Percentage of IT staffers (non-managers) who are minorities: 44%