2012

Employer Profile

No. 64
Cancer Treatment Centers of America Inc.
http://www.cancercenter.com/employment/default.cfm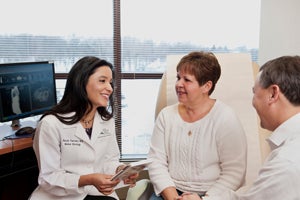 Why you want to work there
Top 10 rankings: No. 1 for training, No. 2 for retention, No. 4 for career development, No. 5 for benefits
IT and innovation go hand in hand at this network of hospitals for advanced cancer care, with headquarters in Schaumburg, Ill. IT workers get their hands on technologies such as VoIP, virtualization, private clouds, telemedicine, electronic health records and mobility software designed to improve patient care and safety. A corporate university offers more than 1,000 courses; plus, the company provides full tuition reimbursement for college degrees.
Rank by company size:

Medium, No. 21
Employee Statistics
Total U.S.-based employees: 3,569
Total U.S.-based IT employees: 133
IT employee turnover in 2011: 8%
IT promotions in 2011: 12%
Training
Training days offered per IT employee in 2011: 10
Training budget per IT employee in 2011: $6,403
Women in IT
Total percentage of women within IT: 41%
Percentage of IT managers who are women: 41%
Percentage of IT staffers (non-managers) who are women: 42%
Minorities in IT
Total percentage of minorities within IT: 26%
Percentage of IT managers who are minorities: 19%
Percentage of IT staffers (non-managers) who are minorities: 28%