2012

Employer Profile

No. 44
The Sherwin-Williams Co.
http://www.sherwin-williams.com/about/careers/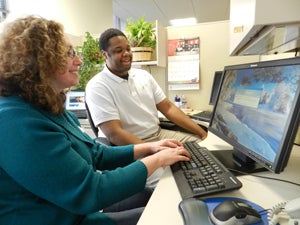 Why you want to work there
As this Cleveland-based paint manufacturer continues to expand internationally, with locations in 111 countries on six continents, IT employees advance their skills and work with the newest technologies in an environment focused on career growth and innovation. An engagement specialist is available to guide staffers through career challenges and help them with advancement opportunities. The company strives to nurture the next generation of IT professionals by offering an extensive student work co-op program.
Rank by company size:

Large, No. 24
Employee Statistics
Total U.S.-based employees: 28,969
Total U.S.-based IT employees: 645
IT employee turnover in 2011: 6%
IT promotions in 2011: 16%
Training
Training days offered per IT employee in 2011: 7
Training budget per IT employee in 2011: $1,217
Women in IT
Total percentage of women within IT: 27%
Percentage of IT managers who are women: 18%
Percentage of IT staffers (non-managers) who are women: 32%
Minorities in IT
Total percentage of minorities within IT: 24%
Percentage of IT managers who are minorities: 15%
Percentage of IT staffers (non-managers) who are minorities: 30%