2012

Employer Profile

No. 31
Scottrade Financial Services Inc.
http://careers.scottrade.com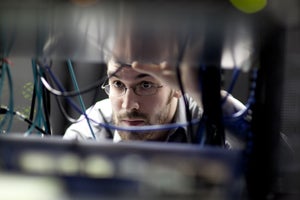 Why you want to work there
Working at this St. Louis-based online brokerage gives IT staffers exposure to the latest technologies and fosters their career development. In the past year, IT launched a mobile trading app and integrated a third-party order-routing application. Close collaboration with business units means IT workers have the opportunity to develop and guide strategy in conjunction with each department.
Rank by company size:

Medium, No. 7
Employee Statistics
Total U.S.-based employees: 3,802
Total U.S.-based IT employees: 763
IT employee turnover in 2011: 14%
IT promotions in 2011: 20%
Training
Training days offered per IT employee in 2011: 10
Training budget per IT employee in 2011: $1,296
Women in IT
Total percentage of women within IT: 28%
Percentage of IT managers who are women: 34%
Percentage of IT staffers (non-managers) who are women: 27%
Minorities in IT
Total percentage of minorities within IT: 23%
Percentage of IT managers who are minorities: 7%
Percentage of IT staffers (non-managers) who are minorities: 25%