2012

Employer Profile

No. 5
Quicken Loans Inc.
http://www.quickenloanscareers.com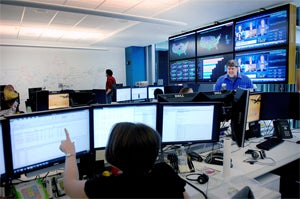 Why you want to work there
Top 10 rankings: No. 5 for career development, No. 6 for retention, No. 10 for diversity
This online mortgage lender in Detroit is all about career development, providing every IT employee with an average of 200 hours of technical training per year, a comprehensive career plan, and the opportunity to participate in a leadership training program. Tech employees can also take advantage of "Bullet Time"-- a period of four hours per week when they can work on personal projects. Bullet Time projects have yielded a mobile app that allows team members to locate conference rooms and an internal streaming video site.
Rank by company size:

Medium, No. 1
Employee Statistics
Total U.S.-based employees: 5,269
Total U.S.-based IT employees: 474
IT employee turnover in 2011: 7%
IT promotions in 2011: 21%
Training
Training days offered per IT employee in 2011: 5
Training budget per IT employee in 2011: $2,848
Women in IT
Total percentage of women within IT: 34%
Percentage of IT managers who are women: 36%
Percentage of IT staffers (non-managers) who are women: 34%
Minorities in IT
Total percentage of minorities within IT: 24%
Percentage of IT managers who are minorities: 17%
Percentage of IT staffers (non-managers) who are minorities: 26%