2014

Employer Profile

No. 5, Midsize
Johnsonville Sausage
http://jobs.johnsonville.com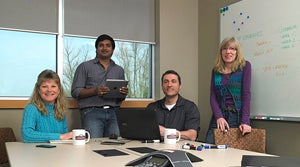 Why you want to work there
Top 10 rankings: No. 3 for training
Tech professionals at this Sheboygan Falls, Wis.-based manufacturer of pork products get plenty of opportunities to enhance their skills. In addition to offering 10 days of training per year to every IT employee, Johnsonville regularly undertakes new technology projects. Each project has a separate budget and resource plans, helping to ensure that employees get the knowledge they will need to support and enhance the technology on an ongoing basis. What's more, a performance-based bonus program gives workers an opportunity to earn a bonus every month, based on individual performance and company performance.
Read more about this Best Place to Work.
Employee Statistics
Total U.S.-based employees: 1,500
Total U.S.-based IT employees: 42
IT employee turnover in 2013: 3%
IT promotions in 2013: 7%
Training
Training days offered per IT employee in 2013: 10
Training budget per IT employee in 2013: $2,262