2013

Employer Profile

No. 52
PPG Industries
http://www.ppg.com/corporate/careers/en/Pages/default.aspx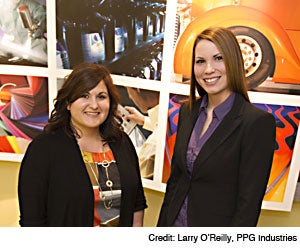 Why you want to work there
No. 2 for career development
An IT strategic funding program at this Pittsburgh-based maker of paints, stains and sealants sponsors fresh ideas and projects that give employees a chance to do things like develop proofs of concept or experiment with the latest technologies. This program allows any IT group to test new concepts and present ideas directly to senior managers. An annual IT Technology & Innovation Expo brings together more than 20 internal and external IT-related groups and vendors who display and present their best work.
Read more about this Best Place to Work.
Rank by company size:

Large, No. 25
Employee Statistics
Total U.S.-based employees: 15,000
Total U.S.-based IT employees: 418
IT employee turnover in 2012: 7%
IT promotions in 2012: 10%
Training
Training days offered per IT employee in 2012: 3
Training budget per IT employee in 2012: $1,500
Women in IT
Total percentage of women within IT: 31%
Percentage of IT managers who are women: 43%
Percentage of IT staffers (non-managers) who are women: 30%
Minorities in IT
Total percentage of minorities within IT: 9%
Percentage of IT managers who are minorities: 9%
Percentage of IT staffers (non-managers) who are minorities: 9%