---
In truth, your security team has a lot to learn from the networking team about how to keep the whole organization running smoothly. We spoke to networking experts to find out what they most wanted security pros to know.
external url
Catch a glimpse of what flourishes in the shadows of the Internet.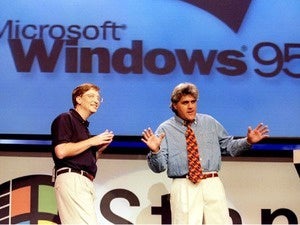 From the Start menu and Taskbar to device autodetection and free, bundled Web browsers, here's a brief history of how Windows 95 became the operating system that time never forgot.
When it comes to learning programming, some things have changed -- but not everything.
A security experts warning: We're using Windows XP for a lot of awfully important things and hoping for the best
While you were upgrading your servers with the latest intrusion detection, did someone just walk in and steal them? We urge you not to forget the obvious when you're doing your security planning.
iPhones and personal laptops aren't just sneaking into office settings; they're going high (into space), low (underwater), and everywhere in between.
I remember when I bought my first new Mac. The label on the box read something like "Assembled for Apple in California." Famously, that has now changed.
Plus: DRAM price plummets.
Plus: Adblock that doesn't block ads?
Or, how to send your loved ones the most irritating text message possible.
Load More
Newsletters
Sign up and receive the latest news, reviews and trends on your favorite technology topics.
Subscribe Now