Apple's new 15-in. M2 MacBook Air is a consumer workhorse
While some compromises will drive pro users to remain pro, Apple's first 15-inch MacBook Air is a robust and reliable machine you can take anywhere.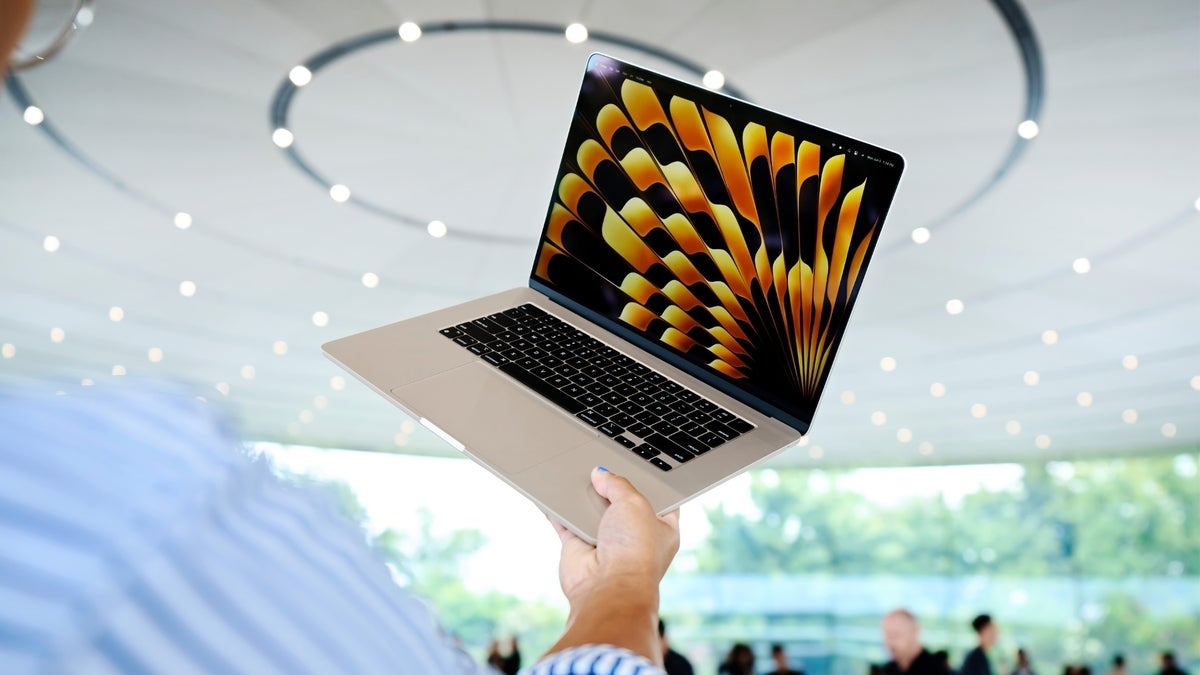 Can you run your business on a 15-in. MacBook Air? I've used one for about a week, and I think most people can. It provides everything that's good in the existing M2 MacBook Air, but with a bigger screen and an approachable price.
Out of the box
Out of the box you can expect the usual Apple "wow" factor. The 0.45-in. thin, 3.3-pound, Midnight 512GB model I tested looks great, though I have developed a somewhat obsessive habit of cleaning up finger-marks on the chassis. (This model sells for $1,499.)
The packaging is a story in itself. Apple continues working to reduce its environmental impact, which means it has largely abandoned plastic in packaging. Instead, Apple's boxes now make liberal use of clever paper tabs, glue, and highly effective design ideas borrowed from Origami.
That's important at scale, as in combination with the increased use of recycled components, lengthy battery life and low power requirements, companies purchasing large numbers of these devices gain an immediate benefit in terms of meeting environmental and CSR targets.
But those green(ish) credentials come at no real compromise.
Fast and power efficient
The computer inside the box is a Mac, so it runs macOS, integrates well with the wider Apple ecosystem, and runs Windows in emulation using third-party Parallels software. If you like, you can also run versions of Linux in VM mode on these machines.
The MacBook Air uses an M2 Apple Silicon processor. That's the entry-level chip in the M2 range, but delivers plenty of horsepower. Geekbench tests show you're getting more single-core performance than an M1 Max Mac Studio or a 16-inch M1 Pro MacBook Pro.
When it comes to multi-core performance, things change, but the M2 MacBook Air still delivers higher performance than the late 2019 2.7GHz Mac Pro or iMac Pro.
You get all this performance at low power requirements, which is good for electricity bills. Apple claims up to 18 hours of battery life – and that power is retained, too. I left the Air alone for a few days, and it was still ready to roll when I got back to it.
One more stat to put this into perspective: Apple's 16-in. Intel Core i9 MacBook Pro was introduced in late 2019. That Mac blew me away with what it was capable of. On Geekbench, it generated multi-core performance of 6,341. The 15-in. MacBook Air does 9,593 —on a consumer Mac.
This is very much the beauty of Apple Silicon, which is empowering Apple to break the performance barrier on Macs, setting new standards with each iteration. Make no bones about it, you're getting pro performance in a consumer device.
Some users might need more
There are some compromises. One salient consumer feature in the device is the 15.3-in. Liquid Retina display. Don't get me wrong, it's a great, large display, with P3 wide color and support for 1 billion colors. It gives you plenty of space to work in, is comfortable to look at, and colors are crisp and rewarding.
But this is not — and does not claim to be — the reference display XDR output you get in a MacBook Pro. So, if the work you do requires the best available display, you'll likely be looking to go Pro or will use this Mac with an external display. It was more than happy driving my LG 4K display over one of its USB-C slots.
Did someone say slots? One limitation that might be a deal-breaker if you need to work with a number of external devices is that there are just two USB-C ports on these Macs. For most of us, that's not a huge compromise, but some enterprise pros may want more I/O choices.
There is no SD card slot or HDMI port on the Mac, though you do get a nice woven MagSafe cable. Don't underestimate the importance of MagSafe when someone accidentally trips on your cable while passing your desk; the cable will pull out, but your Mac won't follow it to the floor.
A Mac for most of us
Pro or consumer, you'll spend your time interacting with the system's trackpad and keyboard. The good news is that these are excellent, particularly as Apple has left its butterfly keyboard experiment behind. Keys are comfortable and responsive, and I really like the generously large (and responsive) trackpad.
The six-speaker sound system is impressive, too. There's nothing tiny or tinny about the sound it creates, it's an AI-optimized audio delivery unit that sounds great, whether you're sitting down to listen to old Morcheeba tracks or brain-storming ideas in Webex and Freeform (which ships with the Mac).
Does it blend?
So, how does it compare with other systems on the market? That 15-in. screen makes it a viable alternative to Dell's popular XPS 15, but the latter is bulkier, can't match the battery life, and while it can run Windows it won't run macOS.
One potential drawback is that graphics is on chip, which means you can't use a graphics card or swap out processors.
In truth, those who want to soup up these systems would be better of beginning with a MacBook Pro for a few dollars more. But for consumers with high-end tastes, or enterprise professionals who need a reliable computer at least as good as the Macs they use at home, this Apple portable ticks most relevant boxes.
It's not a workstation, nor is it intended as a mobile gaming station; it is a powerful, silent machine that in tests just keeps going on a single charge. And if you want an Intel chip, you can find some great deals on that 16-in. i9 MacBook Pro I mentioned earlier.
A can-do machine
There's a lot more to like in this Mac, but integration with other Apple devices is worth reprising. It means that if you use an iPad, it can act as a second screen, or your Mac can act as your iPad trackpad and keyboard. If you use an iPhone, you can use it as a webcam, make calls from your Mac, and really easily get your Mac online anywhere your Apple smartphone can get a data connection.
This is a Mac that lets you get things done all day — even while you sit in the middle of a field, (subject to data connection).
Summing up, the 15-in. MacBook Air looks great, is delightful to use, and is capable of handling all the tasks most consumer and professional users need it to do.
If you seek a machine for tougher tasks, need additional I/O options, or just want an easily upgradeable system, this may not be for you. But for most people most of the time, this Mac is more than enough to run your business. It is resolutely and unashamedly a can-do machine, just like its smaller sibling.
Please follow me on Mastodon, or join me in the AppleHolic's bar & grill and Apple Discussions groups on MeWe.
Copyright © 2023 IDG Communications, Inc.
Shop Tech Products at Amazon