Slack vs. Teams: Which is best for your business?
We compare the top two collaboration platforms in six categories, from usability to enterprise management.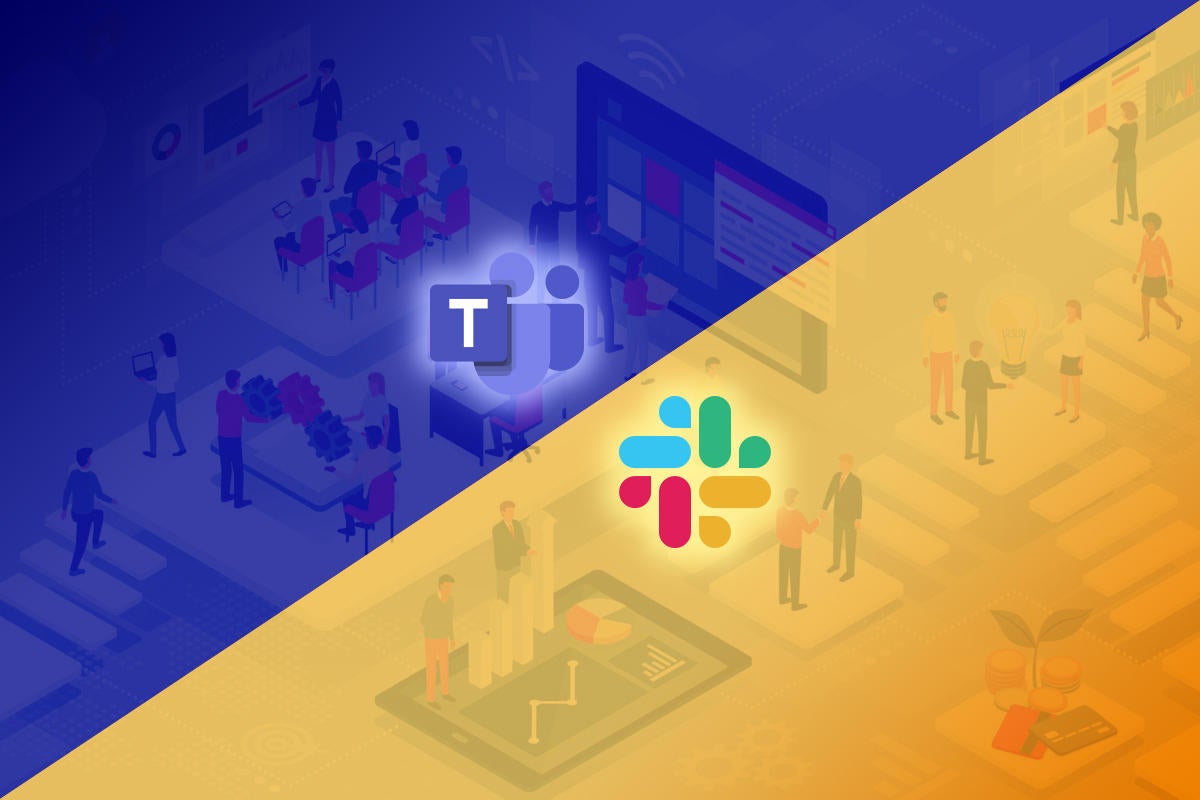 Chat-based collaboration software is a must-have in today's business environment, with Slack and Microsoft Teams the two leading options for the enterprise. The stakes couldn't be higher — the pandemic made clear that remote work and collaboration are the future of business.
Slack, which went public back in 2019, was bought by enterprise software giant Salesforce in July 2021 for $27.7 billion. Until the acquisition, it wasn't clear that Slack could survive against behemoth Microsoft, which has a gazillion revenue streams to rely upon and is giving Teams away for free in most Office 365 and Microsoft 365 plans. But now that Slack has sugar daddy Salesforce behind it, with a valuation north of $200 billion and annual income of more than $20 billion, it can better compete.
Microsoft executive Jared Spataro has said that the company considers Teams to be as important to its future as Windows was to its past. And that was before the pandemic hit. It's become even more important since then.
Indeed, Microsoft has been touting Teams' growing user numbers with great fanfare, citing 250 million active daily users as of July 2021. For its part, Slack has said its own users are more actively engaged, interacting with Slack on average 120 minutes a day and overall taking more than five billion actions a week. Slack said its paid customer base was more than 177,000 in August 2021.
The winner of this competition? You. There are two excellent collaboration platforms from which to choose, both of which are constantly getting better as new features are added. But making that choice isn't easy. In fact, some enterprises have effectively chosen not to choose.
To make your decision a little easier, we've compared Slack and Teams for enterprises in six categories: interface and usability; integrations; additional noteworthy differences; mobile and browser apps; security, compliance, and enterprise management; and pricing. (Note that in this story we're looking at Teams primarily as a work hub based on text chat, not at its videoconferencing features.) Here's what we found.
Slack vs. Teams: Interface and usability
Look and feel: Both the Slack and Teams desktop apps have easily navigated interfaces, with messaging front and center as the focus. There are some stylistic differences. Slack has a freeform, looser feel that we like but some might consider a tad chaotic. Teams has a vaguely corporate look, which feels more streamlined but generic.
Of the two, Slack offers more customization options, with many different ways to tweak the sidebar's look and what appears on it, such as whether to always include all direct messages, how to sort content, and so on. By comparison, Teams offers only three customization options: default (light), dark, and high contrast.
Navigation: Both clients offer their main navigation in sidebars on the left-hand side. Teams navigation is more focused on teams, while Slack puts more emphasis on channels, work areas that users create around projects, topics, or teams.
The Teams sidebar includes icons for Activity, Chat, Teams, Files, and depending on how the organization sets it up, Calendar, Calls, and more. The Activity dashboard provides an at-a-glance overview of everything happening in your organization. You can filter the feed by 'My Activity' to see conversations in which you've been involved, a handy way to get focused. Teams' top-line navigation includes tabs for Conversations, Files, and a team wiki.
Slack's sidebar includes links to channels, threads, direct messages (DMs), and many more options, including "All Unreads," which displays all unread messages in one convenient feed. The automated Slackbot, a chatbot for help, is also easily available in the sidebar. Speaking of which...
In-app help: Teams offers a Help icon at the bottom of the sidebar with links to Topics, Training, and What's New. Each tab is well-organized, offering easily accessible help content without you having to search — although you can search, too, of course. Especially helpful on the Training tab is that each article tells you how long it will take to read, so you can decide before clicking if it's worth your time.
But Slackbot, an in-app chatbot, gets our vote. It's dead-simple to use. Just type a DM to Slackbot with a keyword or fully formed question and you'll (usually) get exactly what you need within seconds. In dozens of queries, Slackbot only missed the mark once or twice in its answer.
Search: Both offer great search capabilities. But Slack search feels more robust to us, especially if you're used to fine-tuning Gmail search results. For example, in Slack you can search using modifiers such as from:@username or before:8/31/2021.
Messaging and chat: Communication via messaging is clearly core to each product, and both do a fine job in this department. There are some differentiating features to consider:
Both offer some text formatting capabilities when writing messages. (To see these options in Slack, click the "Aa" icon below the text-entry box; in Teams, click the icon that looks like an "A" with a paintbrush over it.) But Teams provides a more word processing-like experience, with the abilities to choose a font color, select from three font sizes, insert a table, undo and redo typing, apply paragraph styles, and such. That may be overkill for some, but we appreciate these options.
Both enable you to enliven messages with emojis. Teams offers additional options natively, such as integration with GIPHY for animated GIFs, though you can add GIFs to Slack through an app integration.
Both offer various levels of voice and video chat, natively and via app integrations, from within the apps. With Slack, your best bets for the most functionalities are via integrations with Zoom, Webex, Google Hangouts, or others. With Teams, videoconferencing is built in, but you've also got multiple other options, including the ability to use Microsoft's cloud-based Phone System to call people outside your organization. Depending upon how Slack or Teams is configured, you can record video chats and calls as well as get transcriptions.
Notifications: Given how intrusive these apps can become if you let them, it's imperative to control when, how, and how frequently they notify you.
Teams gives you granular controls over what you're notified about — chats, mentions, replies, likes and reactions, missed calls, voicemails, and so forth. You can choose how you'd like to receive these notifications, such as via banner and email in the desktop app. You can also have messages previewed in the desktop app.
Slack doesn't provide quite as many notification options. But we appreciate the ability to use different notification settings for a mobile device vs. your desktop and to be notified whenever someone uses a keyword you specify.
As for much-needed Do Not Disturb controls, Slack excels. You can silence incoming notifications for 30 minutes, 1 hour, 2 hours, until tomorrow, until next week, or for a custom time period. You can also set a notification schedule, so you receive notifications only during the hours and days you designate.
Teams also lets you specify quiet hours to mute all notifications, as well as designate quiet days, such as Sundays; however, these controls are available only in the Teams mobile app.
With Slack, you can automatically push notifications to mobile when you've been inactive on the desktop client for a specified period of time, from 'as soon as I'm inactive' to 'after I've been inactive for 30 minutes.' Teams lets you toggle mobile notifications on and off for Mentions, Calls, and Meetings. You can also mute mobile notifications if you're in a meeting or using the Teams desktop app.
More features: Both frequently roll out new features. For example, last year Slack added the ability to record short audio and video clips that you can share with individuals or channels, as well as Slack Huddles, which lets you have quick, informal conversations with others in Slack. When you start a huddle, you launch a live, audio-only conversation. In huddles you can share your screen and use live captions.
For its part, Microsoft recently made its "Fluid components" available on Teams via chat. The "Fluid Framework," of which Fluid components are a part, connects Microsoft collaboration and productivity apps by, for example, allowing elements such as tables and charts to be updated in real time by different people using different tools. In Teams, this means that users can, among other things, update a shared to-do list in Teams at the same time a colleague is working on it in Outlook.
Top takeaway: For us, the standouts in the interface and usability category are Slackbot's in-app help, Slack's customization options, and Teams' message formatting. So, we're giving Slack a slight edge over Teams here. 
Slack vs. Teams: Integrations
While each product does a lot on its own, Slack and Teams both rely upon integrations with other apps and services to extend their functionality. There are some noteworthy differences to consider, particularly regarding integration with productivity suites.  
Teams is the winner for Microsoft 365/Office 365 app integration. Not surprisingly, Teams lets you integrate apps from the cloud-based Microsoft Office 365 suite. While working in Teams, you have full creating, editing, and formatting capabilities in Word, Excel, PowerPoint, and others and can collaborate with colleagues on a file in real time. The deep integration with Microsoft OneDrive/SharePoint and Office applications worked well in our tests and makes a lot of sense for organizations embedded in Microsoft's ecosystem. Teams also has deep integrations with Dynamics 365, Microsoft's CRM platform.
Slack offers Microsoft integrations as well, including Outlook calendar, and email, OneDrive and SharePoint, but they don't go nearly as far as Teams' Microsoft 365 integrations.
Slack is the pick for Google Workspace integration. On the other hand, Slack provides integrations with a variety of Google apps, including Gmail, Google Drive, Google Calendar, and Google Sheets. Teams doesn't do any of that, or even the most basic of integrations.
Slack excels at Salesforce integration. Unsurpisingly, Slack integrates well with Salesforce, which bought the company in July 2021. A Slack app for Salesforce lets you view Slack messages associated with a Salesforce record, send Salesforce records to Slack, and set up record alerts in Slack channels. And a Salesforce app for Slack lets you add Slack messages to Salesforce records and send relevant Salesforce alerts to Slack channels. Salesforce has announced numerous additional Slack integrations coming in 2022, including with Salesforce CMS, Salesforce Education Cloud, and Salesforce Financial Services Cloud.
Teams integration with Salesforce doesn't go as deep, although it does let Salesforce users update Salesforce records from within Teams and chat in Teams about topics related to their sales pipeline and service cases, among other capabilities.
Slack offers way more third-party app integrations. Slack (launched in 2013) had a running start on Teams (which debuted in 2017), and it shows in terms of integrations. Slack integrates with 2,400+ commercial, third-party apps compared to about 700 for Teams.
Both Slack and Microsoft Teams enable customers to build their own custom apps and integrations. According to Slack, 935,000 custom apps built by customers were used in a typical week as of September 2021. Microsoft enables custom apps and integrations via its Power Platform developer tools.
Top takeaways: If you're a 'best-in-breed' believer who wants the right tool for the job and doesn't like going too deeply into any one vendor's ecosystem, Slack is your best choice. That said, Teams' integration with Microsoft 365 apps is excellent and should be strongly considered if you're a Microsoft shop. 
Shop Tech Products at Amazon